FAMILY UNIVERSITY
CCSD 46 Presents – Family University Workshops and Presentations
These informative family workshops are provided FREE of charge and are open to the community. Childcare is not provided, but a streaming link to the presentation will be provided.
---
Past Presentation: Legal Planning for Families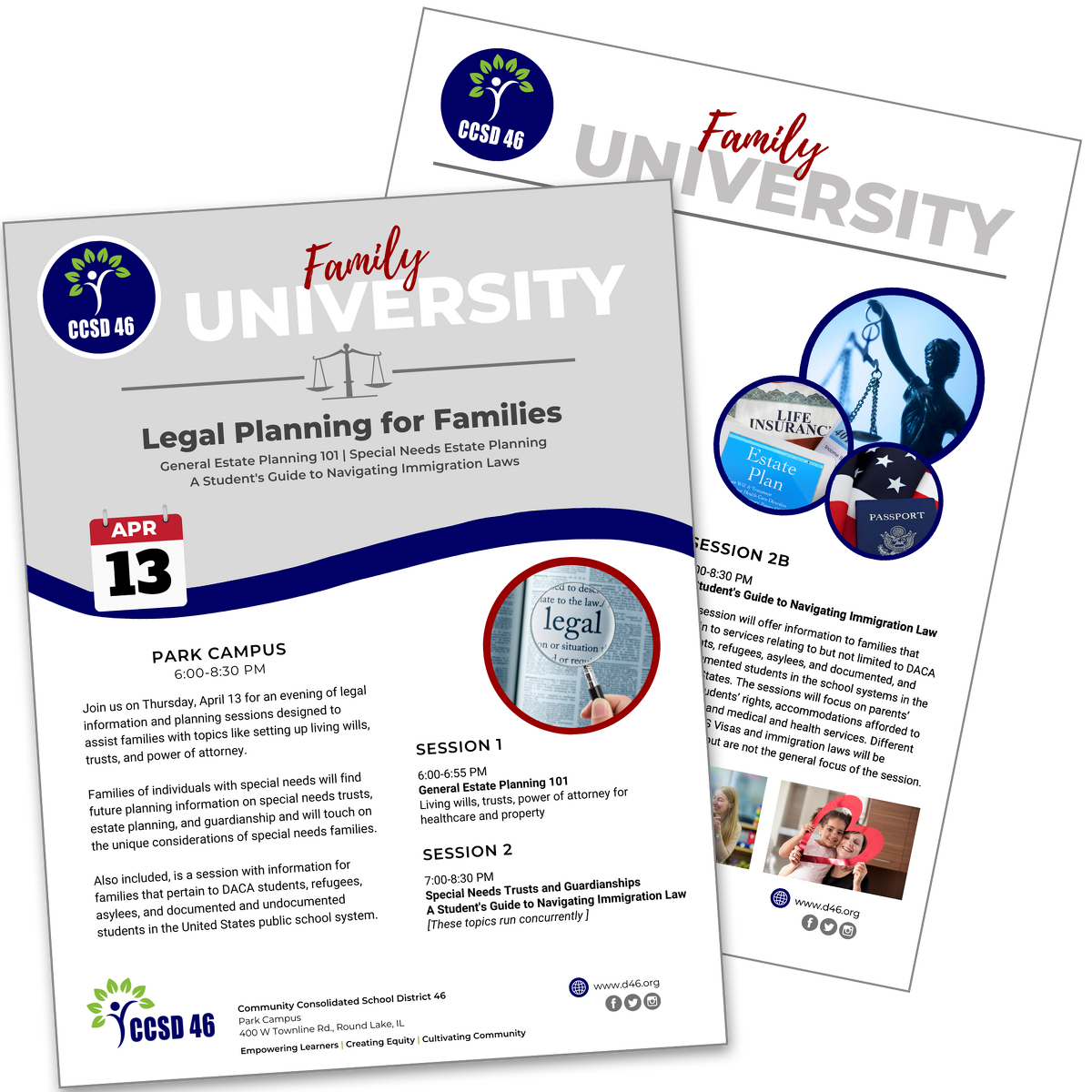 Join us on Thursday, April 13 for an evening of legal information and planning sessions designed to assist families with topics like setting up living wills, trusts, and power of attorney.
Families of individuals with special needs will find future planning information on special needs trusts, estate planning, and guardianship and will touch on the unique considerations of special needs families.
Also included, is a session with information for families that pertain to DACA students, refugees, asylees, and documented and undocumented students in the United States public school system.
Thursday, April 13, 2023
6:00-8:30pm
Park Campus
400 W Townline Road, Round Lake, IL
SESSION 1
6:00-6:55 PM
General Estate Planning 101
An estate plan is composed of legal documents created to predetermine the disposition of a person's property upon his or her death. The ideal estate plan ensures that a person's intentions are fulfilled and that he or she can pass the maximum amount of assets to beneficiaries while incurring the least amount of taxes and costs. This session focuses on the basic yet critical elements of estate planning to guide in starting the estate planning process for your own family.
Speaker: Amber L. Desselles is an Associate Attorney with Churchill, Quinn, Hamilton & Van Donselaar, Ltd. where she practices Estate Planning, Probate, and Guardianship law.
SESSION 2A
7:00-8:30 PM
Special Needs Trusts and Guardianships
Families who have children with special needs, whether minors or adults, must take care in developing their estate plans. These families must take certain steps to properly protect and provide for those children during the special needs estate planning process. While many parents want their estate plans to operate as financial support for their children, parents of children with special needs often have more specific goals. They also have unique considerations that may not be relevant to most families during the estate planning process. By keeping these critical goals in mind, we can help you create the estate plan that best suits the needs of you and your family.
Speaker: Attorney Brian Rubin, founder of Rubin Law, is a former IRS agent and IRS attorney, who has been practicing law since 1976.
SESSION 2B
7:00-8:30 PM
A Student's Guide to Navigating Immigration Law
The session will offer information to families that pertain to services relating to but not limited to DACA students, refugees, asylees, and documented, and undocumented students in the school systems in the United States. The sessions will focus on parents' rights, students' rights, accommodations afforded to students, and medical and health services. Different types of US Visas and immigration laws will be discussed but are not the general focus of the session.
Download Flyer descargar volante
Presentation Slide Deck Legal Night Letter Estate Planning Vocab
---
Past Presentation: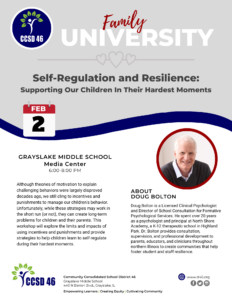 We are proud to present an evening with Dr. Doug Bolton presenting Self-Regulation and Resilience: Supporting Our Children in Their Hardest Moments.
Dr. Doug Bolton
Thursday, February 2, 2023
6:00-8:00pm
Grayslake Middle School, Media Center
440 N Barron Blvd, Grayslake, IL
Presentation Title: Self-Regulation and Resilience: Supporting Our Children In Their Hardest Moments
Although theories of motivation to explain challenging behaviors were largely disproved decades ago, we still cling to incentives and punishments to manage our children's behavior. Unfortunately, while these strategies may work in the short run (or not), they can create long-term problems for children and their parents. This workshop will explore the limits and impacts of using incentives and punishments and provide strategies to help children learn to self-regulate during their hardest moments.
Doug Bolton is a Licensed Clinical Psychologist and Director of School Consultation for Formative Psychological Services. He spent over 20 years as a psychologist and principal at North Shore Academy, a K-12 therapeutic school in Highland Park. Dr. Bolton provides consultation, supervision, and professional development to parents, educators, and clinicians throughout northern Illinois to create communities that help foster student and staff resilience.