MISSION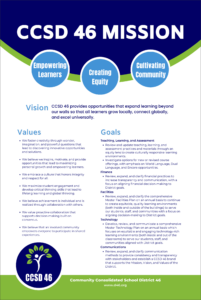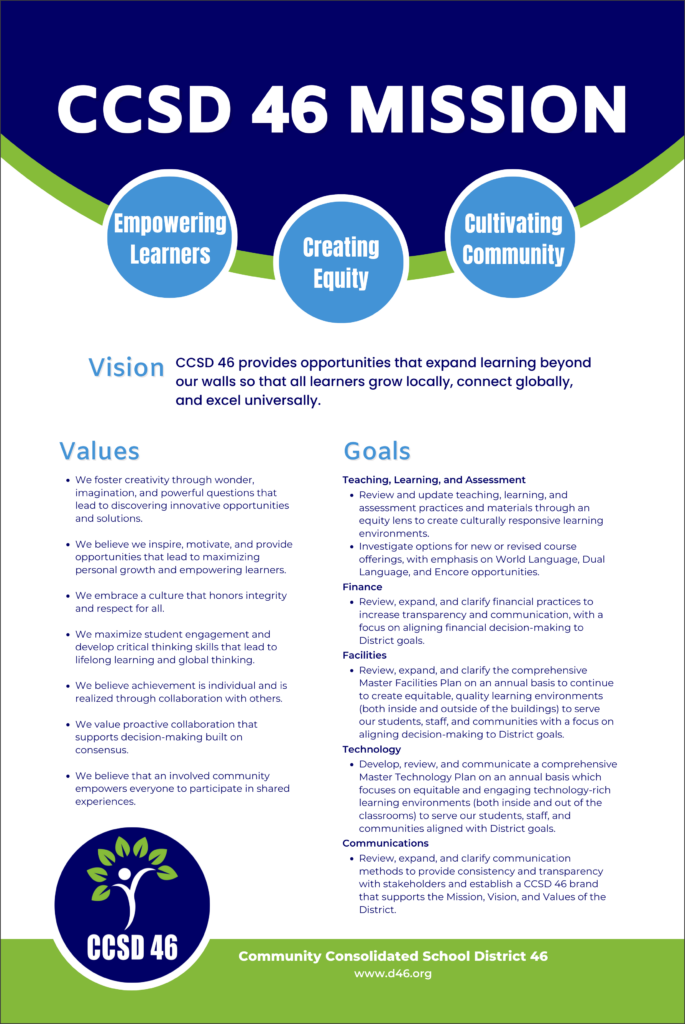 Empowering learners, creating equity, cultivating community.
VISION
CCSD 46 provides opportunities that expand learning beyond our walls so that all learners grow locally, connect globally, and excel universally.
OUR VALUES
We foster creativity through wonder, imagination, and powerful questions that lead to discovering innovative opportunities and solutions.
We believe we inspire, motivate, and provide opportunities that lead to maximizing personal growth and empowering learners.
We embrace a culture that honors integrity and respect for all.
We maximize student engagement and develop critical thinking skills that lead to lifelong learning and global thinking.
We believe achievement is individual and is realized through collaboration with others.
We value proactive collaboration that supports decision-making built on consensus.
We believe that an involved community empowers everyone to participate in shared experiences.
OUR GOALS
Teaching, Learning, Assessment:
Review and update teaching, learning, and assessment practices and materials through an equity lens to create culturally responsive learning environments.
[View Curriculum Goal 1]
Investigate options for new or revised course offerings, with emphasis on World Language, Dual Language, and Encore opportunities.
[View Curriculum Goal 2]
Finance:
Review, expand, and clarify financial practices to increase transparency and communication, with a focus on aligning financial decision-making to district goals.
[View Finance Goal]
Facilities:
Review, expand, and clarify the comprehensive Master Facilities Plan on an annual basis to continue to create equitable, quality learning environments (both inside and outside of the buildings) to serve our students, staff, and communities with a focus on aligning decision-making to district goals.
[View Facilities Goal]
Technology:
Develop, review, and communication a comprehensive Master Technology Plan on an annual basis which focuses on equitable and engaging technology-rich learning environments (both inside and outside of the classrooms) to serve our students, staff, and communities aligned with district goals.
[View Technology Goal]
Communication:
Review, expand, and clarify communication methods to provide consistency and transparency with stakeholders and establish a CCSD 46 brand that supports the Mission, Vision, and Values of the district.
[View Communication Goal]