Transportation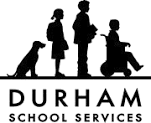 Transportation services are provided to CCSD 46 by:
Durham School Services
211 S IL Route 83, Grayslake, IL 60030
(847) 543-9244
For information on Special Education/Pre-K Transportation, please contact Sue Hobson at Prairieview School, 103 E. Belvidere Road, Hainesville, IL (847) 543-6204 or email [email protected].
Bus Notice
Please contact Durham School Services (847) 543-9244 if there will be changes to your child's transportation. Once the school year has started there will be no changes made to transportation until after September 15.
All routes have a designated start time. Once the busses start their route they do not wait at each stop. Please have your child at your designated bus stop 5 minutes before the scheduled pick-up time. Keep in mind when the weather and road conditions are bad, it will affect the bus schedule.
During the winter months when heavy snowfall can sometimes block a bus stop, the driver can drop off or pick up at the nearest cleared driveway.
If your child must take a different bus to school or home from school due to an emergency, the child's school office must receive a letter in writing. Notes given to the bus driver asking for a change in bussing will not be accepted. Bus changes are not allowed to accommodate playdates due to the number of available seats on bus routes.
---
When buses are late due to inclement weather, traffic, or road conditions, Durham School Services will do everything possible to ensure the safety of our students. Drivers of all routes will work together to pick up students as quickly as possible. If your child has been waiting longer than 20 minutes, please call Durham at (847) 543-9244 to report their location.