Superintendent
Superintendent Message 5/10/23
5/10/23
Dear CCSD 46 Community,
There is so much happening in our school community as we race to the finish line in this school year! In the midst of celebrating special days and marking milestones, I hope that our stakeholders are also able to pause now and again to consider all that we have accomplished together since August. I know that I am immensely proud of our school community.
Feedback Opportunities
Thank you to the 535 stakeholders who participated in our recent ThoughtExchange about ELearning Days! There were 466 comments and over 10,000 ratings! We are still reviewing the feedback and will be getting back to our community soon regarding the themes that emerged along with plans moving forward. This is exactly the information that we needed in order to plan for the future. Thank you!
We hope that we will also have robust feedback for this Communications Review. As part of our commitment to improving communication with our school community, we invite you to participate in this brief survey, which was created in Google Forms and should take no more than 5 – 10 minutes to complete. The survey will close at 5 pm on Wednesday, May 17.
This survey will help us better understand your preferences and needs when it comes to communication from the school district. We want to make sure that we are providing you with the information you need in a timely and efficient manner. Your feedback will be invaluable in helping us achieve this goal. Your responses will be anonymous, and we encourage you to be open and honest in your feedback. This information will be used to help us identify areas where we can improve our communication, as well as areas where we are excelling.
We would like to stress the importance of your participation in this survey. Your feedback is vital to ensuring that we are meeting the needs of our school community. We appreciate your support in this endeavor and look forward to hearing your thoughts and opinions.
Staff Appreciation and Educators of the Year
As we celebrate Staff Appreciation Week here in CCSD 46, we want to take a moment to express our gratitude to the incredible staff who work tirelessly to make our school a wonderful place for our children to learn and grow.
Our staff is made up of exceptional individuals who go above and beyond every day to ensure that our students are safe, supported, and engaged in their learning. From our teachers and administrators to our custodians, administrative assistants, and program assistants, every member of our staff plays a vital role in creating a positive and nurturing environment for our students.
We encourage parents/guardians and students to take some time this week to show their appreciation for our staff in any way they can. A written note of thanks, or simply saying "thank you" when encountering staff members in the halls helps anyone feel seen!
We would like to express our sincere appreciation to our staff for their hard work, dedication, and commitment to our students. We are so fortunate to have such an amazing group of educators and staff at our school, and we are grateful for all that they do to support our students!
We are also thrilled to announce that this evening, ten CCSD 46 educators will be honored at a special dinner and ceremony hosted by the Lake County Regional Office of Education. The educators named have been identified by peers, or parents, or administrators as being exceptional examples of devoted professionals who make a difference for our students, families, other staff members, and school community as a whole.
Congratulations to:
Nicole Blackburn, GMS Instructional Coach

Breanne Garcia, GMS Special Education Teacher

Lisa Boxer, Frederick Science and Math Teacher

Victor Garcia, Avon Bilingual Teacher

Amy Schneider, Praireiview Instructional Coach

Mike Licciardello, Meadowview Program Assistant

Leigh Ann Salas, Meadowview Instructional Coach

Roxanne Mclyman, Early Childhood Center Occupational Therapist

Jessica Achtor, Park Campus MultiLingual Teacher

Vicky Ewen, Woodview Instructional Coach
We are so proud of these dedicated educators, along with all of our staff members who do so much every day to make a difference in the lives of our students and families!
Sincerely,
Dr. Lynn Glickman
Superintendent
CCSD 46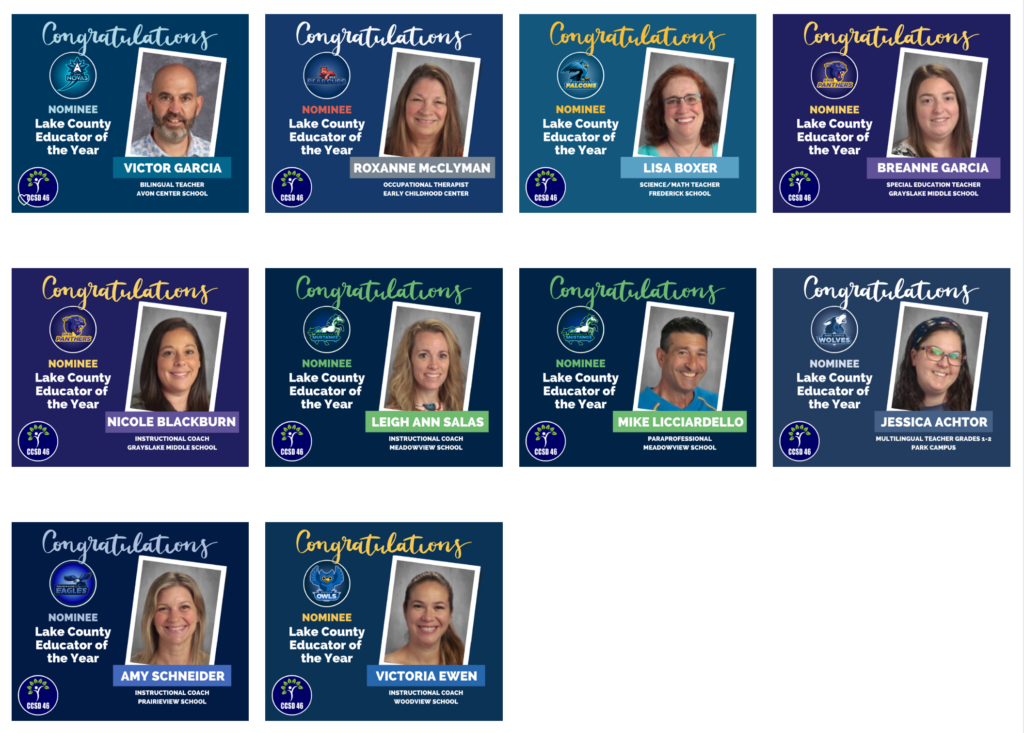 – – – – – – – – – –
Mensaje del superintendente
5/10/23
Estimadas familias del CCSD 46,
Están sucediendo muchas cosas en nuestra comunidad escolar mientras nos acercamos a la recta final de este año escolar. Mientras celebramos días especiales y marcamos hitos, espero que nuestros accionistas también puedan hacer una pausa de vez en cuando para considerar todo lo que hemos logrado juntos desde agosto. Sé que estoy inmensamente orgullosa de nuestra comunidad escolar.
Oportunidades para Intercambiar Opiniones
Gracias a los 535 accionistas que participaron en nuestro reciente ThoughtExchange sobre los Días ELearning. Hubo 466 comentarios y más de 10.000 comentarios. Todavía estamos revisando los comentarios y pronto nos pondremos en contacto con nuestra comunidad para informarles de los temas que han surgido y de los planes para el futuro. Esta es exactamente la información que necesitábamos para planificar para el futuro. Muchas gracias.
Esperamos contar también con sus comentarios para esta Revisión de las Comunicaciones. Como parte de nuestro compromiso de mejorar la comunicación con nuestra comunidad escolar, le invitamos a participar en esta breve encuesta, que fue creada en Google Forms, y no debe tomar más de 5 – 10 minutos para completar. La encuesta se cerrará a las 5 pm del miércoles 17 de mayo.
Esta encuesta nos ayudará a entender mejor sus preferencias y necesidades cuando se trata de la comunicación del distrito escolar. Queremos asegurarnos de que le estamos proporcionando la información que necesita de una manera oportuna y eficiente. Sus comentarios serán muy valiosos para ayudarnos a lograr este objetivo. Sus respuestas serán anónimas, y le animamos a ser abierto y honesto en sus comentarios. Esta información se utilizará para ayudarnos a identificar las áreas en las que podemos mejorar nuestra comunicación, así como las áreas en las que estamos sobresaliendo.
Nos gustaría hacer hincapié en la importancia de su participación en esta encuesta. Sus comentarios son vitales para asegurar que estamos satisfaciendo las necesidades de nuestra comunidad escolar. Apreciamos su apoyo en este esfuerzo y esperamos escuchar sus ideas y opiniones.
Agradecimiento al Personal y Educadores del Año
Al celebrar la Semana de Apreciación del Personal aquí en CCSD 46, queremos tomar un momento para expresar nuestra gratitud al increíble personal que trabaja incansablemente para hacer de nuestra escuela un lugar maravilloso para que nuestros niños aprendan y crezcan.
Nuestro personal está compuesto de individuos excepcionales que van más allá cada día para asegurar que nuestros estudiantes estén seguros, apoyados y comprometidos en su aprendizaje. Desde nuestros profesores y administradores hasta nuestros conserjes, asistentes administrativos y asistentes del programa, cada miembro de nuestro personal desempeña un papel vital en la creación de un entorno positivo y enriquecedor para nuestros estudiantes.
Animamos a los padres/tutores y a los alumnos a que dediquen algún tiempo esta semana a mostrar su agradecimiento a nuestro personal de la forma que puedan. ¡Una nota escrita de agradecimiento, o simplemente decir "gracias" al encontrarse con miembros del personal en los pasillos ayuda a cualquiera a sentirse visto!
Nos gustaría expresar nuestro sincero agradecimiento a nuestro personal por su arduo trabajo, dedicación y compromiso con nuestros estudiantes. ¡Somos muy afortunados de tener un grupo tan increíble de educadores y personal en nuestra escuela, y estamos agradecidos por todo lo que hacen para apoyar a nuestros estudiantes!
También estamos encantados de anunciar que esta tarde, diez educadores CCSD 46 serán honrados en una cena especial y una ceremonia organizada por la Oficina Regional de Educación del Condado de Lake. Los educadores nombrados han sido identificados por sus compañeros, o padres, o administradores como ejemplos excepcionales de profesionales dedicados que hacen una diferencia para nuestros estudiantes, familias, otros miembros del personal, y la comunidad escolar en su conjunto.
Felicidades a:
Nicole Blackburn, Entrenadora de Instrucción de GMS

Breanne Garcia, GMS Maestra de Educación Especial

Lisa Boxer, Frederick Maestra de Ciencias y Matemáticas

Victor Garcia, Maestro Bilingüe de Avon

Amy Schneider, Entrenadora de Instrucción de Prairieview

Mike Licciardello, Asistente del Programa Meadowview

Leigh Ann Salas, Entrenadora Educativa de Meadowview

Roxanne Mclyman, Terapeuta Ocupacional del Centro de Primera Infancia

Jessica Achtor, Profesora multilingüe de Park Campus

Vicky Ewen, Entrenadora Educativa de Woodview
Estamos muy orgullosos de estos dedicados educadores, junto con todos los miembros de nuestro personal que hacen tanto cada día para marcar la diferencia en las vidas de nuestros estudiantes y familias.
Atentamente,
Dr. Lynn Glickman
Superintendente
CCSD 46
[posted 05/10/23]