---
Community Consolidated School District 46 has partnered with Arbor Management, Inc. as our food service vendor for the 2023-2024 school year. Breakfast and lunch meals will be offered for all students on a paid, free, or reduced status. Teachers will be taking meal counts prior to the start of each day. Breakfast will be consumed at school.
Parents will need to log into their Infinite Campus Portal account and load money onto their child's food service account for a la carte and milk. Parents will be able to view items consumed each day and account balances. Each child is issued a 4-digit pin number that they will use to purchase additional ala carte items.
Food allergies are dealt with on an individual basis. If your child has a food allergy, please make sure a note from your physician is on file in the school office. Please make sure that you are keeping your child's account current.
Meal Programs
Breakfast with milk……..$1.85
Lunch with milk……….$3.50
Milk only……….$0.60
Ala Carte Purchases
Ala carte items are available for purchase at Park Campus West and Grayslake Middle School. Students must have money in their food service account in order to purchase a la carte items. No cash or checks will be accepted. A la carte items include assorted chips, $1.25; bottled water, $1.20; juice, $1.60; cookies, $1.25; and ice cream, $1.50.
Students should line up in order of their arrival and wait courteously for their turn to be served. Students are expected to clear the table when they have finished eating, throw paper items into the trash cans, and place recyclable containers in the proper bins before leaving the cafeteria. All lunches must be eaten in the cafeteria; the students are expected to leave the table, seats, and floor clean.
---
Programa de comidas
El Distrito Escolar Consolidado de la Comunidad 46 tiene un contrato con Arbor Management, Inc. como proveedor de nuestro servicio de alimentos para el año escolar 2022-2023. Se ofrecerán desayunos y almuerzos para todos los estudiantes en un estado pagado, gratis o reducido. Al inicio de cada día de clases, los maestros contarán la cantidad de estudiantes que soliciten comidas. El desayuno se consumirá en la escuela.
Los padres de familia deberán ingresar a su cuenta del Portal Infinite Campus y agregar dinero en la cuenta del servicio de comidas de su hijo si desean opciones de alimentos a la carta y si desean comprar leche. Los padres podrán ver los artículos consumidos cada día y los saldos de la cuenta. A cada niño se le asignará un código personal de 4 dígitos que utilizará para comprar opciones de alimentos a la carta.
Las alergias alimentarias se tratarán de forma individual. Si su hijo tiene una alergia alimentaria, por favor, asegúrese de que la escuela tenga archivada una nota de su médico. Por favor, asegúrese de mantener la cuenta de su hijo actualizada.
Programas de comidas
Desayuno con leche……..$1.85
Almuerzo con leche……….$3.50
Sólo leche……….$0.60
Compras a la carta
Las opciones a la carta están disponibles en Park Campus West y Grayslake Middle School. Los estudiantes deben tener dinero en su cuenta de servicio de alimentos para poder comprar artículos a la carta. No se aceptan cheques ni dinero en efectivo. Las opciones a la carta incluyen papas fritas variadas, $1.25; agua embotellada, $1.30; zumo de frutas, $1.60; galletas, $1.25 y helado, $1.50.
Los alumnos deberán ponerse en fila por orden de llegada y esperar pacientemente su turno para recibir su almuerzo. Se espera que los alumnos limpien la mesa cuando hayan terminado de comer, que tiren los artículos de papel en los basureros y que coloquen los contenedores reciclables en los recipientes adecuados antes de salir de la cafetería. Todos los almuerzos deberán ser consumidos en la cafetería; se espera que los alumnos dejen la mesa, los asientos y el piso limpios.
---
ARBOR MANAGEMENT INC.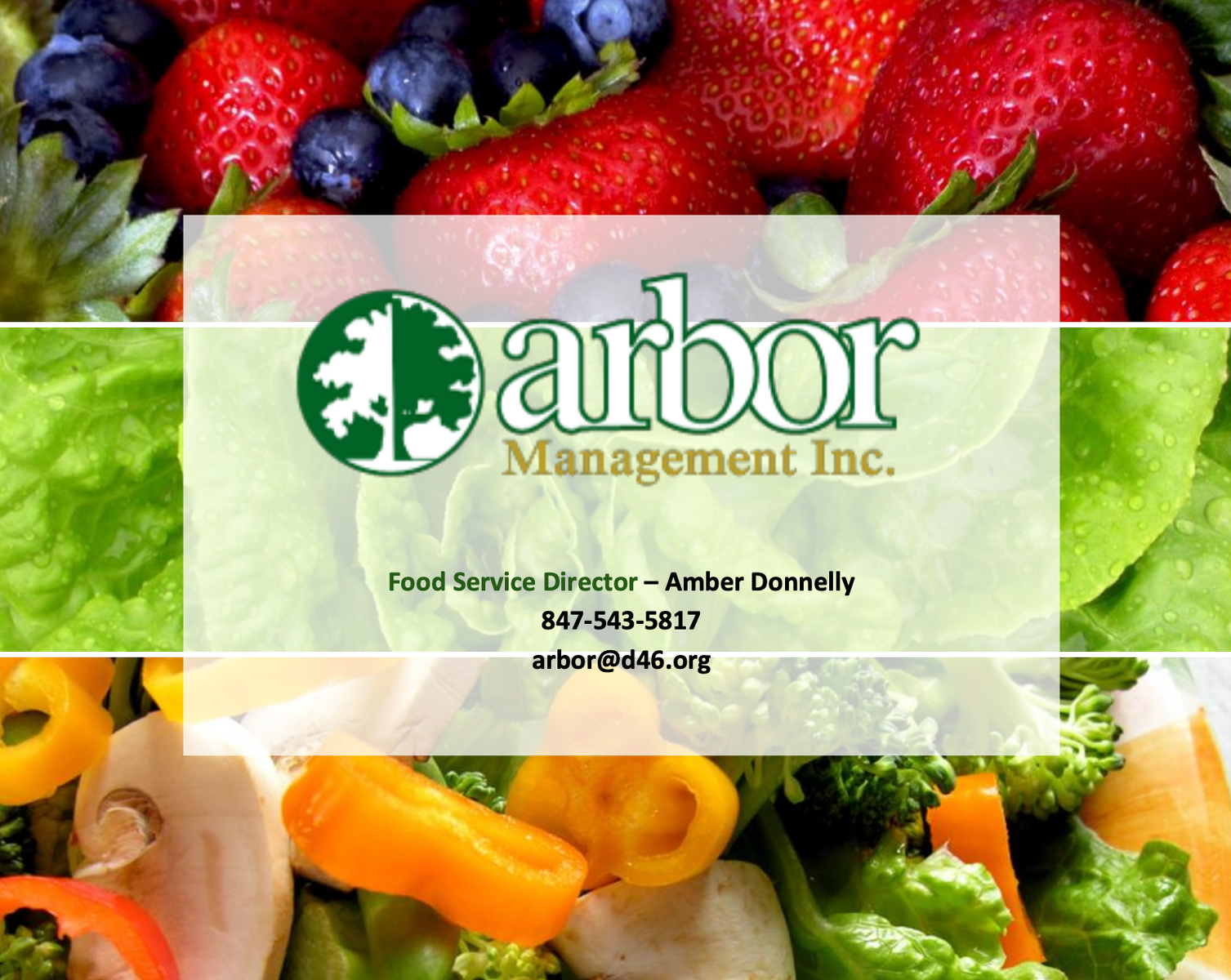 Community Consolidated School District 46 has partnered with Arbor Management, Inc. to offer nutritious, healthy food options to all students. CCSD 46 participates in the USDA-sponsored National School Lunch and School Breakfast Programs, and all meals and snacks served meet or exceed the standards required by these programs. Arbor Management is a privately held, employee-owned business that has provided services to school districts in the Midwest for over thirty years. Arbor is committed to providing a highly customized service specifically designed to meet the needs of the students, parents, and staff of CCSD 46.